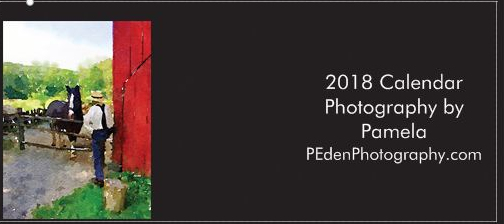 Fine Art 2018 Desk Flip Calendar
One of my most popular items each year is my Desk Flip Calendar. Every year the free-standing, desk flip calendar features 12 new images that I photographed the preceding year. This fine art flip desk calendar is the only item sold directly from my website.
With 2018 approaching, consider purchasing this as a gift for yourself or for someone else. It is a perfect "little gift" to place by your computer or phone. It is both pretty and practical, serving as a quick-glance calendar with gorgeous fine art displayed on it.
All 12 images in the 2018 calendar are based on my original photographs which I have transformed into photo watercolors using special software giving them a soft, dreamy, impressionistic appearance.
We are currently shipping orders for the 2018 calendar. The desk flip calendar measures just 4.5" by 8.25" and is a self-standing 12 month calendar with13 glossy heavy cardstock pages. It features one month per page, with spiral binding along the top for easy flipping between months.
The fine art desk calendar is available for the same low price as previous years: $8.00 USD plus $2.00 for shipping and handling, shipped domestically via 1st class US Postal Service. An order with multiple calendars might have a different shipping and handling charge. Orders to addresses outside the continental USA will have shipping calculated based on location.
There are three ways to purchase one of these cute little gems:
1) Use the "Add to Cart" PayPal button below
2) Print out and return the order form below along with a personal check to order your calendar 3) Purchase through eBay (Search for seller "pjeden" to find a live listing)
No matter how you place your order, I'll get the calendar shipped out to you right away.